April 27, 2015 at 10:19 am | Consultist Blog | No comment
Global Entrepreneurship Monitor

(GEM)  is the world's largest study of entrepreneurial dynamics. GEM provides an annual assessment of entrepreneurial activity, aspirations, and attitudes of individuals across 73 countries, which represent 90% of the world's GDP and 72.4% of the population.
GEM's Global Report

is the result of surveys with more than 206,000 individuals and 3,936 national experts. Among all other insights, the report also provides a detailed assessment of the entrepreneurial ecosystem of all GEM countries, by using a set of indicators called Entrepreneurial Framework Conditions (EFCs).
 At this post, we focused on the Entrepreneurship Ecosystem of the European Countries, and provided a ranking for each framework condition. The chart below lists the top 5 European countries that received highest scores from each EFC: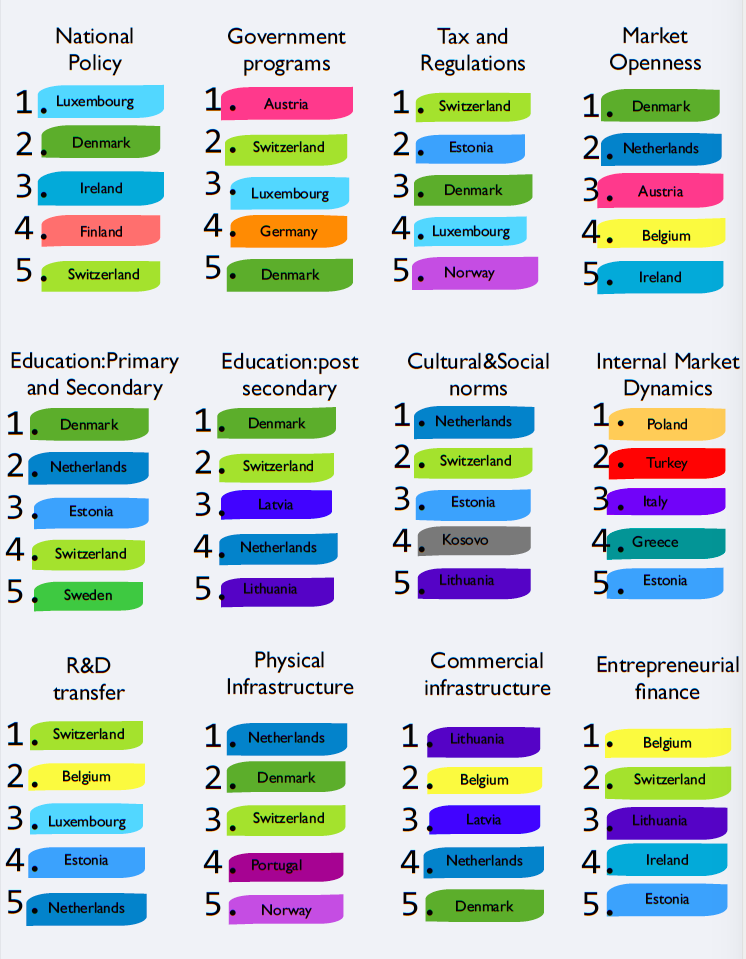 Data Source: GEM 
Entrepreneurial Framework Conditions: Ranking of 29 countries from Europe:
Entrepreneurial Finance
The availability of financial resources (equity and debt, including grants and subsidies) for SMEs.  (1 lowest to 5 highest)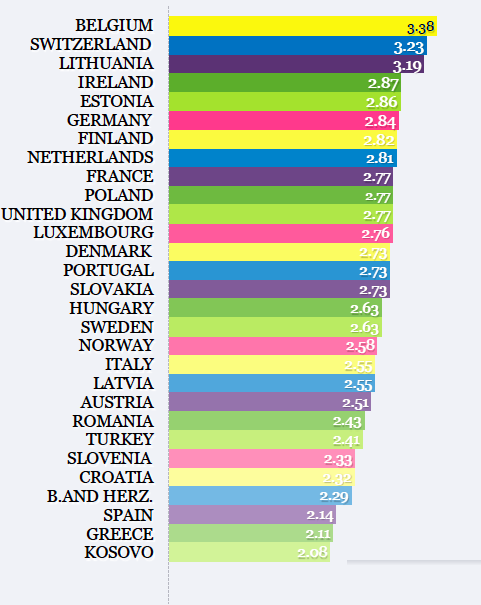 Data Source: GEM 
Government Policy
To extent which public policies support entrepreneurship.
a. National Policy
Entrepreneurship as a relevant economic issue.  (1 lowest to 5 highest)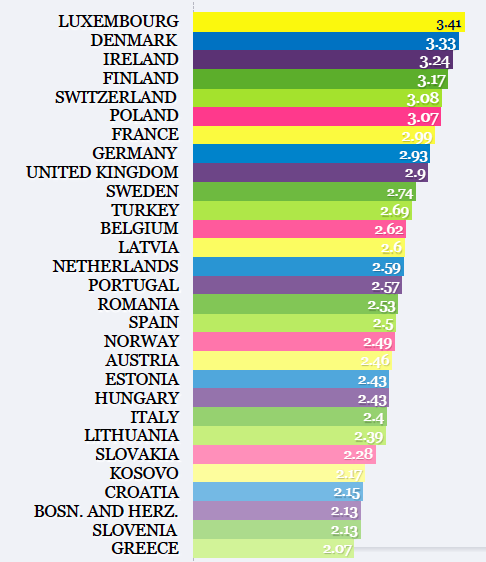 Data Source: GEM 
b. Regulations
Tax and regulations are either size-neutral or encourage startups and SMEs.  (1 lowest to 5 highest)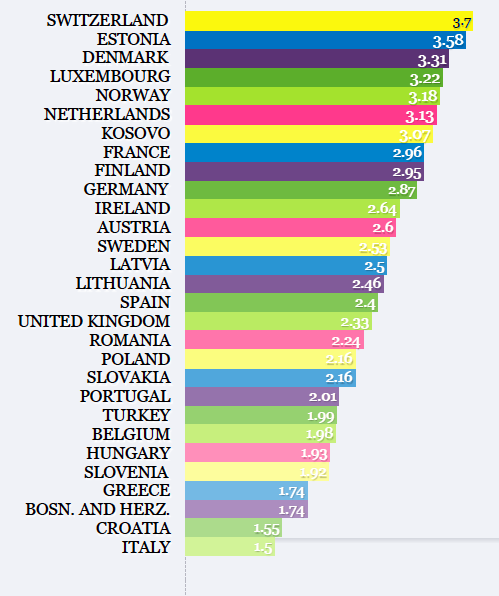 Data Source: GEM 
Government Entrepreneurship Programs
The presence and quality of programs directly assisting SMEs at all levels of government – national, regional, municipal.  (1 lowest to 5 highest)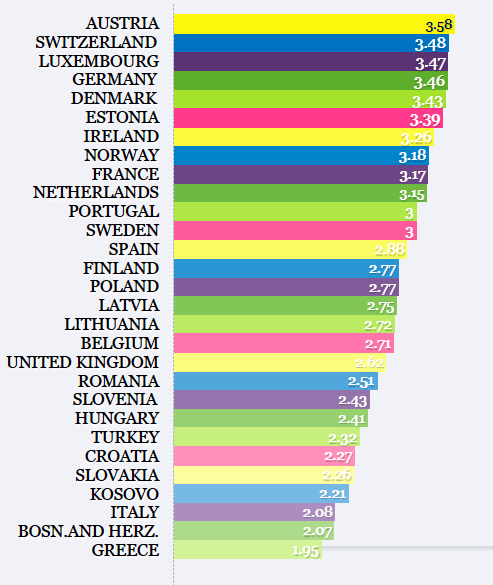 Data Source: GEM 
Entrepreneurship Education
The extent to which training in creating or managing SMEs is incorporated within the education and training system at all levels. 
a. Entrepreneurship Education at basic school -primary and secondary.  (1 lowest to 5 highest)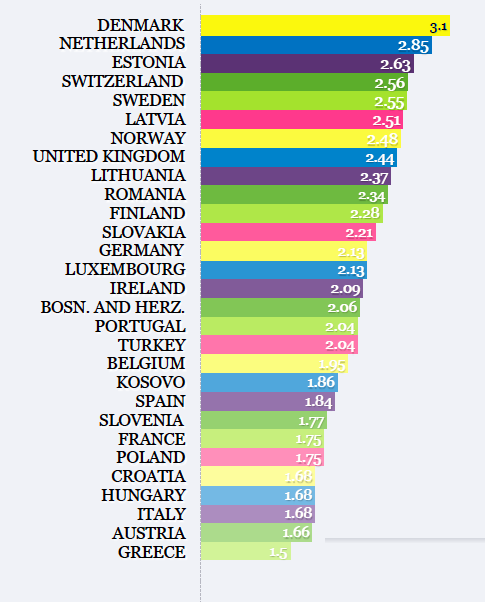 Data source: GEM
b. Entrepreneurship Education at post-secondary levels :higher education such as vocational, college, business schools, etc.  

(1 lowest to 5 highest)
 
Data source: GEM
R&D Transfer
The extent to which national research and development will lead to new commercial opportunities and is available to SMEs.  (1 lowest to 5 highest)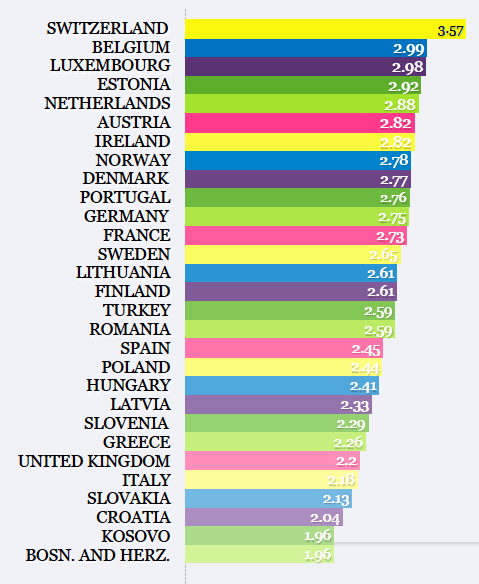 Data source: GEM
Commercial and Legal Infrastructure
The presence of property rights, commercial, accounting and other legal and assessment services and institutions that support or promote SMEs.  (1 lowest to 5 highest)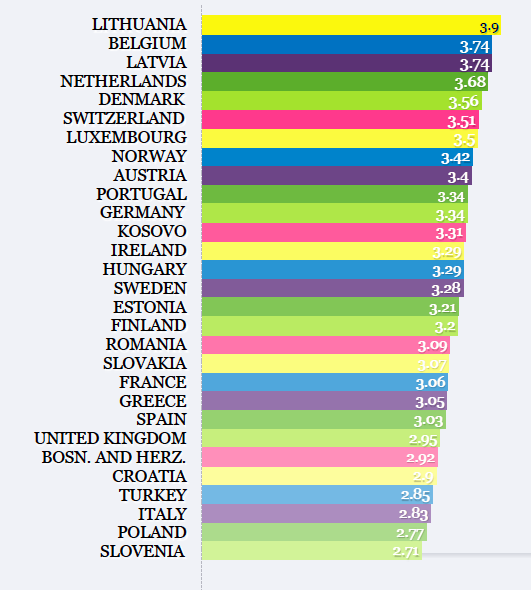 Data source: GEM
Entry Regulations
a.     Market Dynamics: the level of change in markets from year to year  

(1 lowest to 5 highest)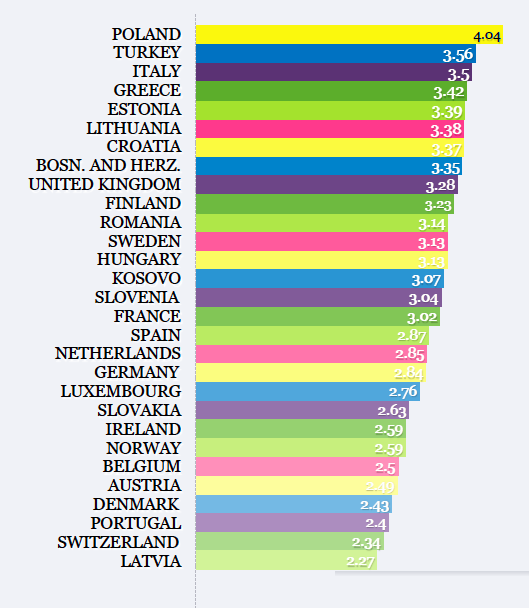 Data source: GEM
b. Market Openness: the extent to which new firms are free to enter existing markets.  

(1 lowest to 5 highest)
Data source: GEM
Physical Infrastructure
Ease of access to physical resources—communication, utilities, transportation, land or space—at a price that does not discriminate against SMEs.  

(1 lowest to 5 highest)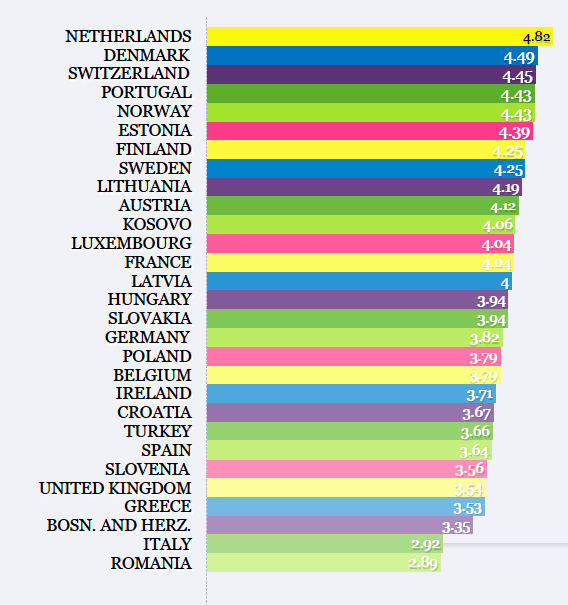 Data source: GEM
Cultural and Social Norms
The extent to which social and cultural norms encourage or allow actions leading to new business 

methods or activities that can potentially increase personal wealth and income.  

(1 lowest to 5 highest)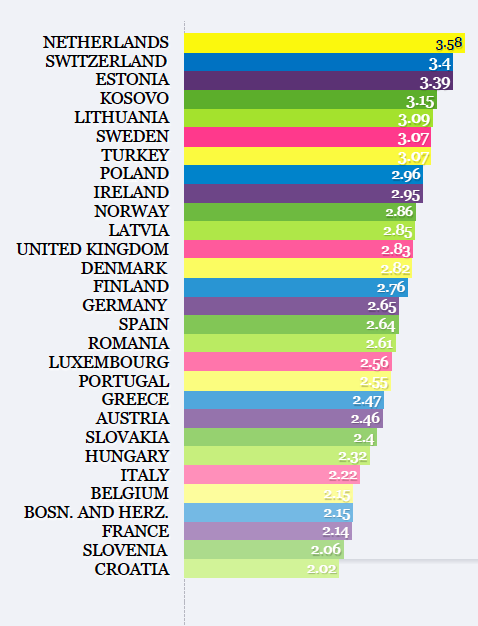 Data source: GEM